Your feedback: The PANORAMA Platform Survey Results
Puffin Island, Anglesey, Wales Special Protection Area for wildlife
© PANORAMA
From 1 April to 12 July, the PANORAMA team conducted a survey to receive feedback on the new design of the platform homepage. Thank you to all of the respondents!
The aim of the survey: How can we better support the replication of existing solutions for nature conservation and sustainable development?
The PANORAMA team wanted to understand what this community of users thought about the new PANORAMA platform homepage, the "Challenges" feature, and the three new entry points for exploring the Solutions. You can now access solutions by filtering for specific ecosystems, topics, geographic area, thematic communities, and challenges - as well as by using the open text search - as shown here: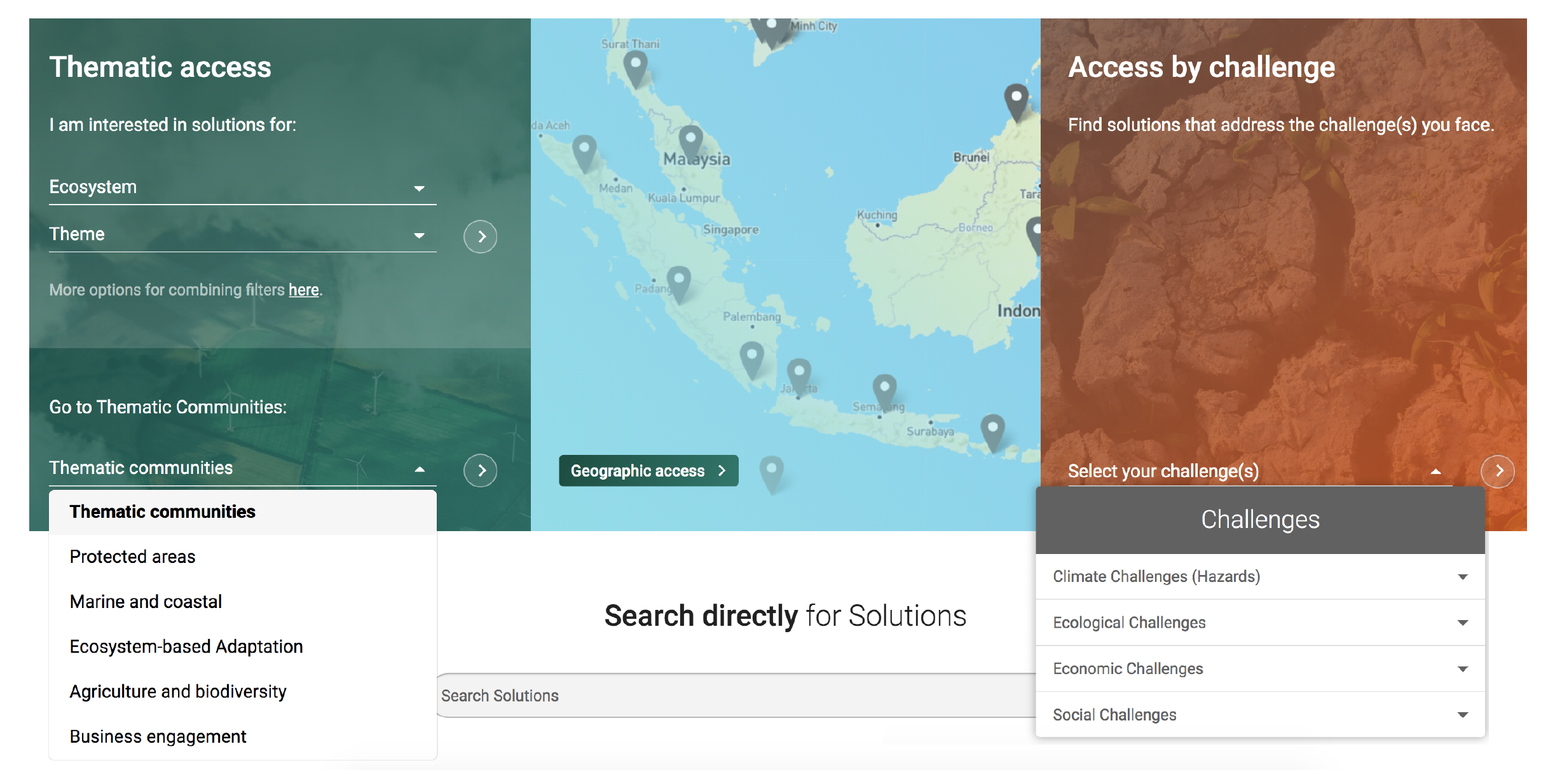 Key Survey Insights
From the 72 respondents, the responses showed an overall satisfaction with the new platform design, with agreement that the platform was easier and more efficient to navigate, especially when searching for a location or by a certain challenge.
In terms of usefulness of the PANORAMA Platform, 50% of 62 respondents noted: "Browsing the solutions on the web platform and/or in communication products (such as "Solutions in Focus" publications) has provided inspiration for my work."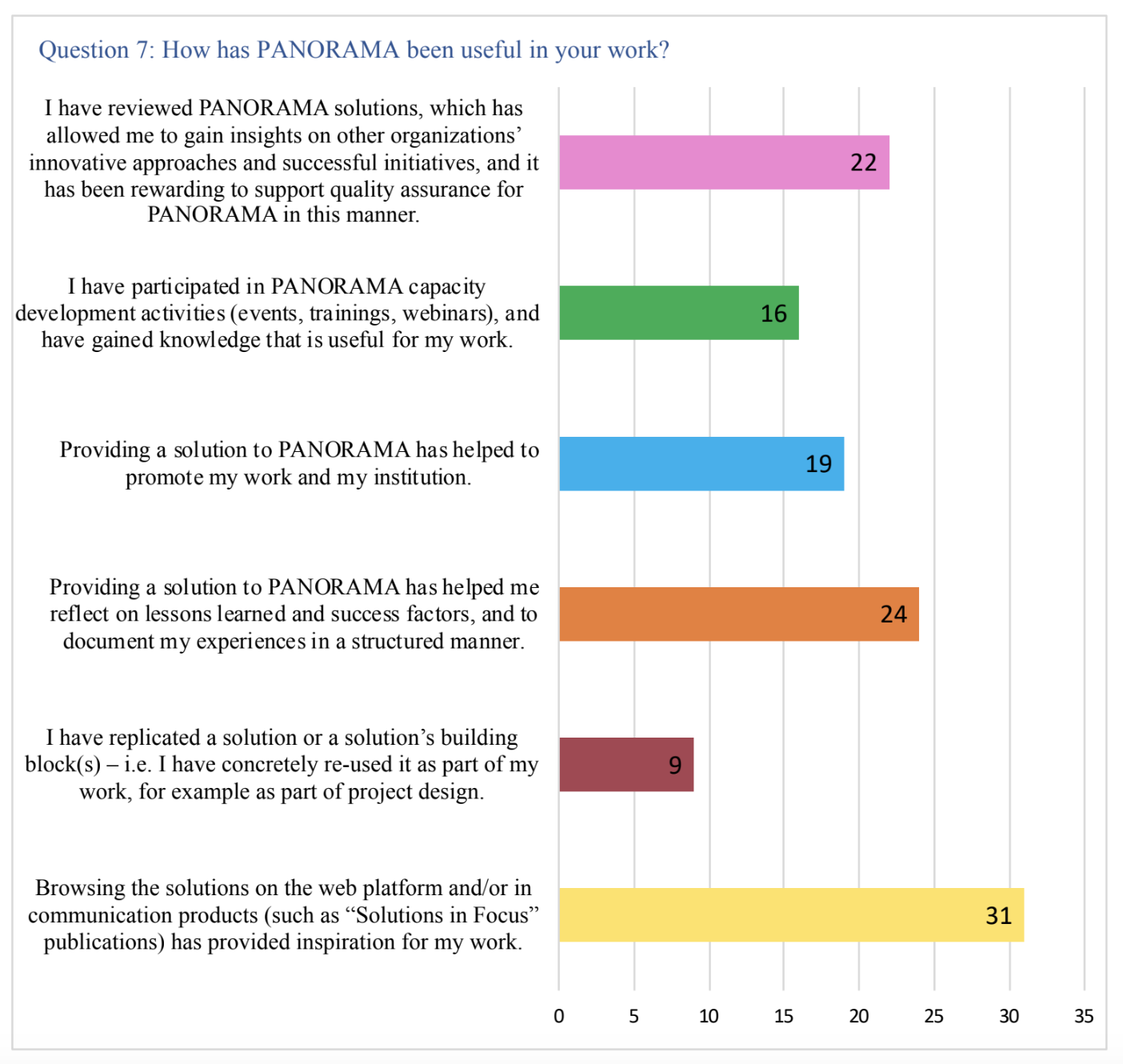 Your Suggestions: Filters
As PANORAMA is a partnership promoting examples of inspiring, replicable solutions across a range of conservation and development topics, and its aim is to enable cross-sectoral learning and upscaling of successes, many of the suggestions made could enhance the platform in the future.
Most of the users found the new 'Challenges' filter useful since it allowed for a more objective search that can be focused on a user's specific information needs. Many survey respondents noted that this new filter works particularly well for Climatic Challenges (Hazards) and challenges with a limited number of solutions available, thus allowing a space to showcase the challenges that need scaling up with additional solutions.
The "Challenges" filter is one new feature that is helping to achieve these aims - and in the survey, it was shown to be either "very useful "or "somewhat useful" to 90% of the 70 respondents: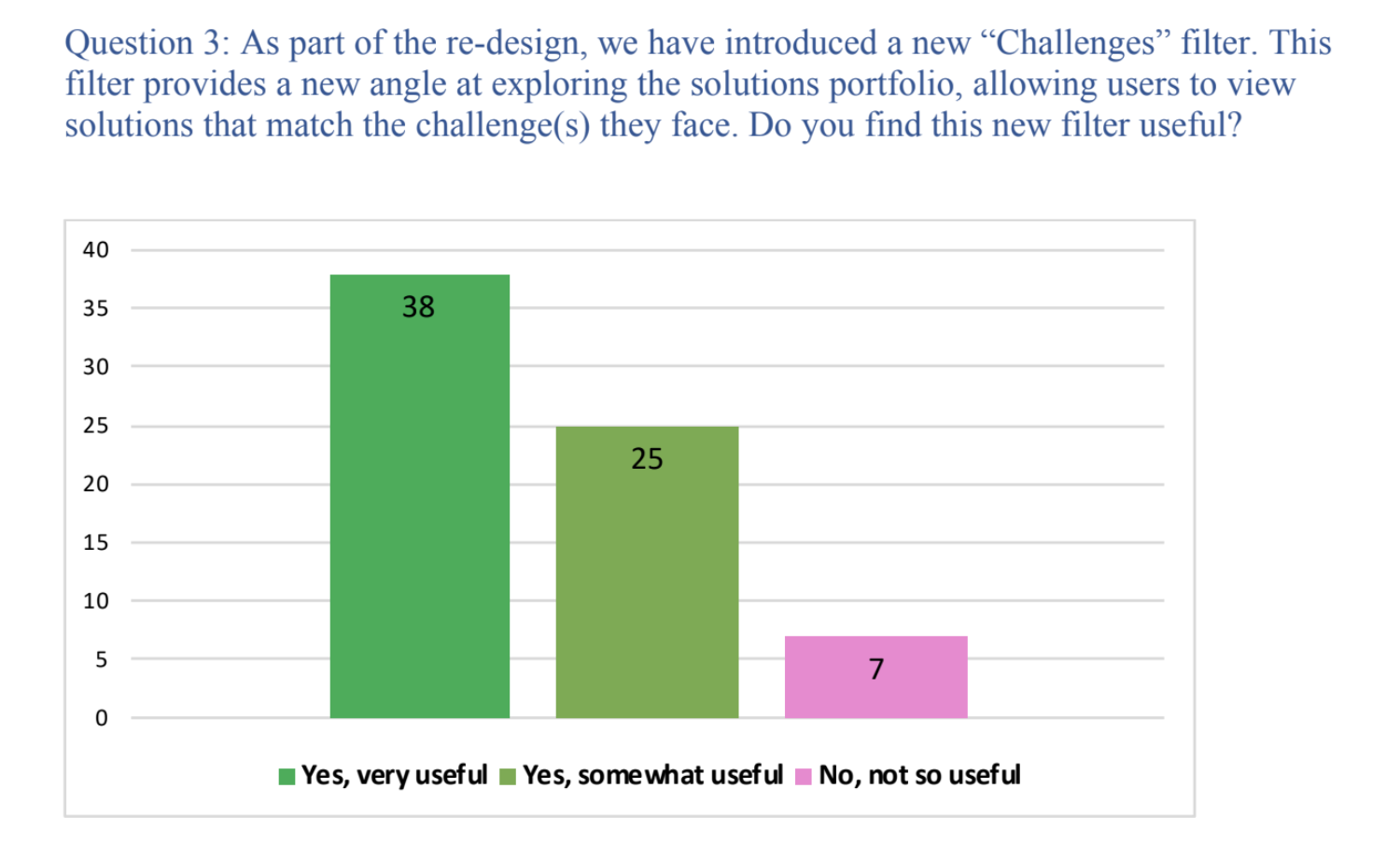 Many of the suggestions for additional filters are already partly or fully included in the platform and enhanced by the new open text search and other improvements.
Filter by one or many of the SDGs:
Geographic filters: "Filter by Single or multiple sites involved, with more sites involved it is often difficult to put it geographically on a map." Currently when a Solution is uploaded, per the Manual https://panorama.solutions/en/panorama-manual:

The pin marks either the direct location of the solution or the location of solution providers in the country. In case of more than one location, the pin marks one location but the regional character of the solution is explained in the text description and in the field "additional locations".
For now, please be sure to include the additional locations in the text descriptions and in the field "additional locations" when uploading a Solution.
Filter by the solution's outcomes, impacts, and lessons learned

Every Solution, both Full and Snapshot, contains a section on Impacts that is part of the template and required to be filled in. In the Manual: https://panorama.solutions/en/panorama-manual: refer to Solution Criteria: Item 2. Impact and Item 12 in "What you need to keep in mind when writing up your solution" as each Building Block, in each Solution has a Lessons Learned section included and asks for specific outcomes as well.
As each Solution likely has many outcomes, impacts, and lessons learned, the addition of a filter to capture all of these is a huge challenge, as you can imagine. For now, we ask that the community continue to supply as much detail in each Building Block and Solution templates as they can in order to address this suggestion.
Filter by links to scientific research publications

Please do include research links and publication links as components to your Solutions!
In the Manual, please note that it does encourage the use of additional resources, and to be sure the Solution contains uploaded background documents such as reports, brochures, fact sheets, news articles, theses, scientific publications or hyperlinks to these documents and to websites.
Suggestions for Additional Functionalities
The survey results showed that there are many improvements we can do with the PANORAMA platform. These additional functionalities have been added to a "wish list" and are being taken under consideration for prioritisation in the future.
Thematic Communities
The question, "PANORAMA currently has 5 interlinked "thematic communities": Protected areas, Marine and coastal, Ecosystem-based adaptation, Agriculture and biodiversity and Business engagement. A thematic community on Sustainable urban development and resilience will be launched soon. Which additional thematic areas do you think PANORAMA should cover, and/or how should the existing themes be expanded?" generated some great feedback.
Some of the respondents suggested that the thematic communities should be linkable in a matrix while also focusing on impacts of and adaptation to climate change. Themes of cultural, spiritual, ancestral values and artisanal practices were noted as were a long list of other topics that have been added to the "wish list" for the thematic communities.
Improving the Impact of PANORAMA
When asked, "In your opinion, how could PANORAMA systematically assess the replication and uptake of existing solutions in order to better measure and show its own impact?" your responses indicated a strong need to show Solution replication - a key aspect of providing solutions for a healthy planet. Support for replication included these comments:
"…it could be a space that shows where this solution has been replicated with success."
"…keep asking your platform users which solutions they've seen in PANORAMA they're now using."
"…I develop(ed) a tool where the institutions that have shared their solutions keep PANORAMA updated on the partnerships, consultancies and questionnaires made and / or making sure that these partnerships are disclosed on the platform or sites."
"…creating (and helping to learn how to use) a tag or seal we can feature in our materials that allows electronic tracking of a solution outside the platform."
"…a counter or checkbox to show if a solution has been replicated - and connecting solutions together this way."
"…a very robust monitoring and evaluation (M&E) system for replication of local solutions."
Numerous survey respondents suggested conducting training or forums to allow the community to share their experiences, since bringing solution providers together may trigger replication. Several users also stated that interaction with the solution provider would be extremely beneficial. Peer-to-peer advice and a means to communicate on the platform were called for multiple times. In addition, several users suggested monitoring the use of the platform and conducting surveys by directly contacting solution providers or creating a tag that allows electronic tracking of a solution outside the platform. In addition, asking solution seeks at the end of case studies whether they have or plan to replicate the solution as a part of their work was another idea. A suggestion of clear benefits for solution providers for sharing their experiences, publishing solutions, such as a virtual award.
Next steps
The survey provided the PANORAMA team with a lot to reflect upon in order to continue building on the platform's usefulness and increasing the synergies between all members of the community.
Issues with the platform, additional comments and collaboration proposals were received, as were comments on the need for best practices sharing to facilitate replication. PANORAMA wishes to improve its support for conservation and development practitioners to be able to up-take and build on existing solutions in their own working context - and over the coming months we hope to implement some of the highest potential impact suggestions that were received.
Thanks to Zhanna Levitina for input into the survey analysis.