Recent developments of PANORAMA - bi-annual news update
Logo
© PANORAMA
It has been a truly exciting time for PANORAMA…
…is what we can say for sure about the last few months! We are happy to share a number of exciting updates: Since you received our last newsletter; PANORAMA has grown, not only through its new thematic community "Business Engagement", but also with the United Nations Development Programme (UNDP) as a new valuable partner. PANORAMA allows practitioners to share and reflect on their experiences, increase recognition for successful work, and to learn with their peers how similar challenges have been addressed around the globe.
Learn more about the recent developments, including from our now five thematic communities, and become engaged – visit the PANORAMA web platform or contact us with ideas and thoughts!
We wish you a wonderful holiday break and a solution-focused 2019!
The PANORAMA team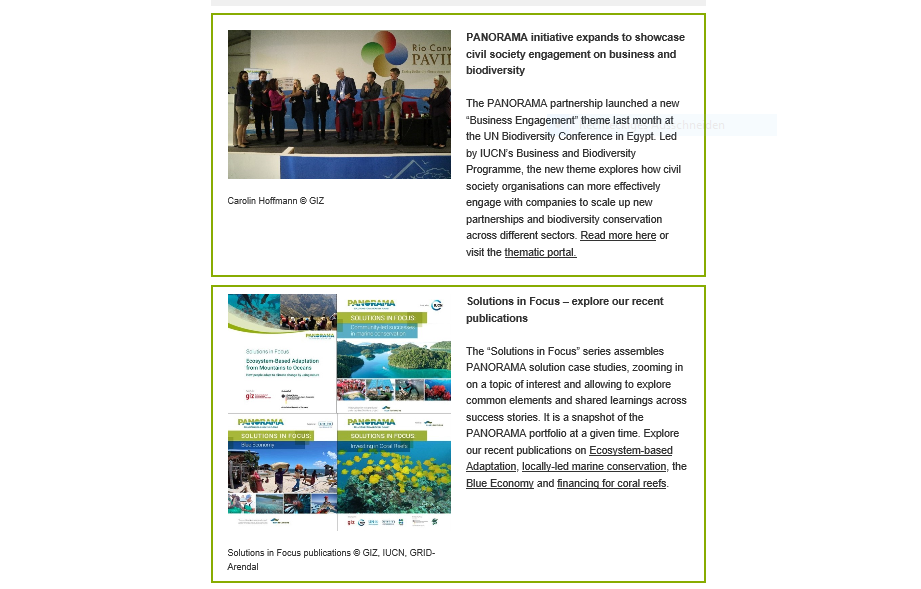 Just click on the preview image above to see the full newsletter.