PANORAMA Newsletter July 2022
White-Taled Eagles (Haliaeetus albicilla) by Peter Prokosch
© GRID-Arendal
After two years of a global pandemic, in 2022, PANORAMA continues to connect the environmental community around proven solutions. So far, over 1,110 solutions have been published on the PANORAMA platform, some of which have been presented at international events like the UN Ocean Conference and China Council for International Cooperation on Environment and Development (CCICED) 2022 Annual General Meeting: Building an Inclusive, Green and Low-carbon Economy.

In the past months, we introduced our first 18 PANORAMA Ambassadors. We have also continued to expand PANORAMA's thematic scope with PANORAMA One Health, which focuses on solutions that acknowledge the interconnected health of people, animals and the environment. Catch up on further highlights below!

The PANORAMA secretariat at GIZ and IUCN, on behalf of all partners.
Latest News
We have published our 2021 website statistics
With over 200,000 visits and 223 new solutions published, the PANORAMA web platform has seen steady growth in 2021, both in terms of visitation as well as content. Find out more about our user statistics here.
Introducing our first PANORAMA Ambassadors!
We are proud to launch our new Ambassadors programme and introduce the first cohort. The title of PANORAMA Ambassador is a status awarded to practitioners, policy influencers, and academics who fully support the PANORAMA initiative and who are particularly well-connected within their community.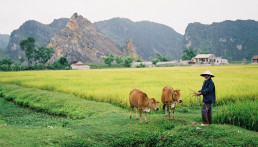 Presenting PANORAMA One Health
The health of people, animals and the environment are closely integrated. The One Health approach mobilizes multiple sectors, disciplines and communities at varying levels of society to work together to foster well-being and tackle threats to health and ecosystems. At the same time, it addresses the collective need for clean water, energy and air, safe and nutritious food, taking action on climate change, and contributing to sustainable development.

Making the case for local solutions at major conferences
Over the past few months, PANORAMA has been present at a number of important global and regional events, including the UN High-Level Political Forum on Sustainable Development, the 2nd Asia Parks Congress as well as the 1st Africa Protected Areas Congress. At these events, we have been giving a stage to local solution providers and their knowledge, and have showcased the value of global knowledge initiatives like PANORAMA in the context of global policy processes.
" We are recognising PANORAMA as a strategic database to make the cases widely accessible and share lessons learned from early applications of the IUCN Global Standard for Nature-based Solutionsᵀᴹ."
Kristin Meyer, Environmental Law Centre (IUCN), Germany
NEWS FROM PANORAMA'S COMMUNITIES
PANORAMA Species Conservation
Wildlife rescues - building a safe bridge to recover wild populations in Vietnam
In Vietnam, there are thousands of live wild animals confiscated from illegal wildlife trade incidents, however, the majority of them could not survive after confiscation due to lack of proper treatment. Wildlife rescues are not limited to saving and taking care of animals from confiscations but also rescue and rehabilitation, release and monitoring, conservation breeding program, capacity building, and collaboration to safely release them back to the wild, and to recover and secure wild populations. After 7 years of working, we have released more than 1200 confiscated animals back into the wild with a success rate of more than 60%, many of which were tagged and tracked post-released. Moreover, a Vietnam Wildlife Rescue Association is going to be established to support wildlife rescue centres through the network.
PANORAMA Restoration
Sustainable Forest and Land Management in the Dry Dipterocarp Forest Ecosystems of Southern Lao PDR
The Sustainable Forest and Land Management in the Dry Dipterocarp Forest Ecosystems of Southern Lao Project, "SAFE Ecosystem Project" works in southern part of the country. The objective is to facilitate a transformative shift from unsustainable to integrated sustainable land and forest management in the dry dipterocarp forest landscape in order to secure critical wildlife habitats, conserve biodiversity, maintain ecosystems and support livelihoods' development.
It supports local communities to participate in wildlife protection, strengthening of alternative sources of likelihoods besides supporting upgrading of protected areas as part of the effort to that protect natural habitat, reverse environmental degradation, as well as supporting local livelihoods, providing alternative income -generating opportunities for communities and reinforcing their support for biodiversity conservation. A participatory approach was complemented by relevant government departments.
PANORAMA Cities
Restoring Balance: Recognizing Nature and Knowledge in Jaipur's Heritage Through Research-Practice Collaboration
As a cultural World Heritage Site in an arid region of India, Jaipur city is experiencing pressures of a rapidly expanding human population and is susceptible to growing impact from climate change. To address some of the key issues faced by the city, the process established by a multidisciplinary research-practice team during the ICCROM-IUCN World Heritage Leadership Heritage Place Lab led to a wide-ranging, management needs-oriented research agenda which will add to the existing body of heritage conservation of Jaipur. The Heritage Place Lab promoted a cross functional collaboration between the Manipal University, Wildlife Institute of India Category 2 Centre and Jaipur Municipal Corporation and Town Planning, in which all institutions applied their respective expertise to (1) revise their individual approaches to heritage conservation and (2) to develop a common policy incorporating diverse points of view that may serve as a template for other teams, especially in the field of urban heritage.
PANORAMA Nature-Culture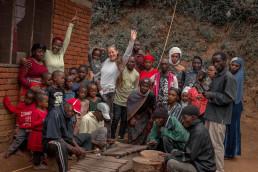 Advocating eco-tourism through art photography
TEG is a youth organization, which focuses on empowering young people living by Nature Reserves through improved livelihood opportunities: eco-tourism and agribusiness. They have worked with communities in the Uluguru Nature forest Reserve in developing ecotourism, using attractions that are naturally found in their culture and tradition.
PANORAMA solution providers from South America in the Green list process celebrated the UN Biodiversity Day
Around 80 people from various countries gathered at a regional event organized by IUCN to share inspiring solutions from Protected and Conserved Areas (PCAs). These solutions came from Areas that are currently in the certification process for the IUCN Green. The event was done within the Agenda of Biodiversity Day on May 22nd.
PANORAMA Blue
SOLUTIONS IN FOCUS: The Great Blue Wall – Good practices for marine and coastal conservation in the Western Indian Ocean
The Great Blue Wall, championed by countries from the Western Indian Ocean, is a last attempt to make a difference, turn things around, and leave our blue planet as we found it, if not in a better state, for future
generations. At the center of it all, are our blue guardians. They have to be. They really are the only ones able to turn things around. And they are increasing in number by the day.
This is the story of the untold. This is a picture of the unseen. This is the story of our true heroes – our blue guardians.
EbA New Solutions in Focus publication out now!
In May 2022, PANORAMA EbA launched its new Solutions in Focus-publication under the title Key Themes for Ecosystem-based Adaptation. The document is available under this link and intends to inspire policy- and decision-makers as well as practitioners by showcasing a selection of 20 solutions from the PANORAMA platform. These have been applied in very different settings and focus on key aspects and themes that are important for the longevity of EbA.
The publication shows that EbA has 'many faces': it is being implemented successfully in a broad range of countries and ecosystems and it is driven forward by all kinds of people and organisations. At the same time, it makes clear that in order for EbA to be sustainable, projects need to consider cross-cutting topics such as governance and gender; they need to ensure and come up with long-term financing mechanisms and need to aim for the mainstreaming of EbA into other fields such as agriculture and urban contexts.
Effective Community Participation in Biodiversity Conservation Strategies
This solution presents successful regeneration of forest and wildlife through active participation of grass root level community members in biodiversity conservation measures.
It involves the realization of the forest degradation and loss of wild species by sensitizing community members about the impending fallout of the ecosystem and the urgent need to care for Mother Earth and sustainable use of natural resources. This way various grass-root level institutions come together for a global cause.
Communities actively participate in the effective implementation of strategies for biodiversity conservation (such as forgoing a Jhum cultivation cycle in the forest land adjacent to a Conservation Area).
Restoring life underwater: A Multi-Stakeholder Partnership to save coral reefs in the Dominican Republic
Dominican Republic (DR) is known for its tourism, that relies on the ecosystem services provided by coral reefs. However, it has suffered the impacts of climate change and coastal development, making coral reefs more vulnerable. Restoration became a popular alternative to safeguard this ecosystems. It started to grow rapidly lacking control and causing many nurseries to become abandoned. This concern triggered the creation of the Dominican Coastal Restoration Consortium (CDRC), a Multi-Stakeholder Partnership that works with the Ministry of Environment. Nowadays, members of the CDRC are providing support to the Ministry, monitoring coral nurseries all over the country and leading the evaluations, as well as steering the restoration initiatives in the DR.
PANORAMA One Health
PODD: A participatory surveillance platform that empowers communities to prevent zoonotic spillovers
PODD is a participatory surveillance platform that empowers communities to prevent zoonotic spillovers. We incentivize livestock owners to become "disease detectives," operationalizing the critically important One Health approach, and preventing the next global pandemic before it begins. While you cannot train thousands of farmers to be epidemiologists, you can teach them to be the eyes and ears of the public health system.
OUTLOOK
PANORAMA web platform redesign
A new, majorly improved version of the PANORAMA web platform will launch in 2023. It will include, among other things, more automated functionalities for summarizing and analysing the insights from our solutions. We will aim to make the platform even more user friendly and reflect the current state of innovation with regards to online learning and community engagement. If you would like to share your needs and ideas, get in touch!
PANORAMA at the UN Biodiversity Conference
PANORAMA will be present at the UN Biodiversity Conference, which will take place in Canada (hosted by China) in December this year. We will showcase PANORAMA as an initiative that can support implementation of the new Global Biodiversity Framework, by supporting knowledge exchange and capacity development around local, proven solutions for biodiversity and development.
Online learning on Ecosystem-based Adaptation
A new e-learning course on Ecosystem-based Adaptation (EbA) which features multiple case examples from PANORAMA as well as a step-by-step guidance on planning and implementing EbA projects will be launched towards the end of August. The course, developed by Deutsche Gesellschaft für Internationale Zusammenarbeit (GIZ), the International Union for Conservation of Nature (IUCN), and the International Institute for Sustainable Development (IISD), builds on more than a decade of research, experience, and partnerships in implementing EbA. Registration will open soon! To learn more about the course and stay tuned on how to sign up, visit this webpage.
CELEBRATING OUR EXPERT REVIEWERS
Over 100 volunteer expert reviewers support the quality assurance of PANORAMA "solution" case studies. Let's recognise and get to know some of them!
Interested in being a reviewer? Contact us: contact@panorama.solutions
María Fernanda Burneo
María Fernanda Burneo is a Multimedia Graphic Designer, with a subspecialization in Photography, a master's degree in Communication from the Faculty of Social Sciences (FLACSO) and a specialization in Strategic Business Communication from the Technological Institute of Monterrey. She has more than 13 years of experience in strategic environmental communication, advertising and branding working for organizations such as the Charles Darwin Scientific Foundation, Pachamama Foundation, Amazon Frontlines, Goldman Environmental Prize, CEDENMA and WWF. Since 2022, she has joined IUCN South America as Project Communicator for the Regional Protected and Conserved Areas Unit.
María Fernanda Burneo is the mother of two, open water swimmer and owns her own zero waste company.
Tessa Cooper
"I am a conservation biologist, with a passion for utilizing education to change mindsets toward wildlife. My current work aims to prevent wildlife trafficking in the Kavango-Zambezi Transfrontier Conservation Area in Southern Africa. I have also been involved in protected areas research and management since 2012. My fields of expertise include fynbos and forest ecology, wetlands, mountains, and island biogeography. I live in the Cradle of Humankind World Heritage Site, where I am involved in local area management and conservation".
Project Support Officer at TRAFFIC